Our recipes are designed to be species appropriate and the raw ingredients are at least 80% animal protein (from muscle meat, meaty bones and organs). Our food is Australian made & uses premium human grade ingredients
Save 40% with our pet health membership and receive a monthly food delivery, over 70+ dog food recipes, 24/7 vet access, a monthly gift, free post and ongoing discounts
Click here to save 40%
Regular price
Sale price
$67.00
Unit price
per
Sale
Sold out
for 1 pack(s) at $67.00 ea
View full details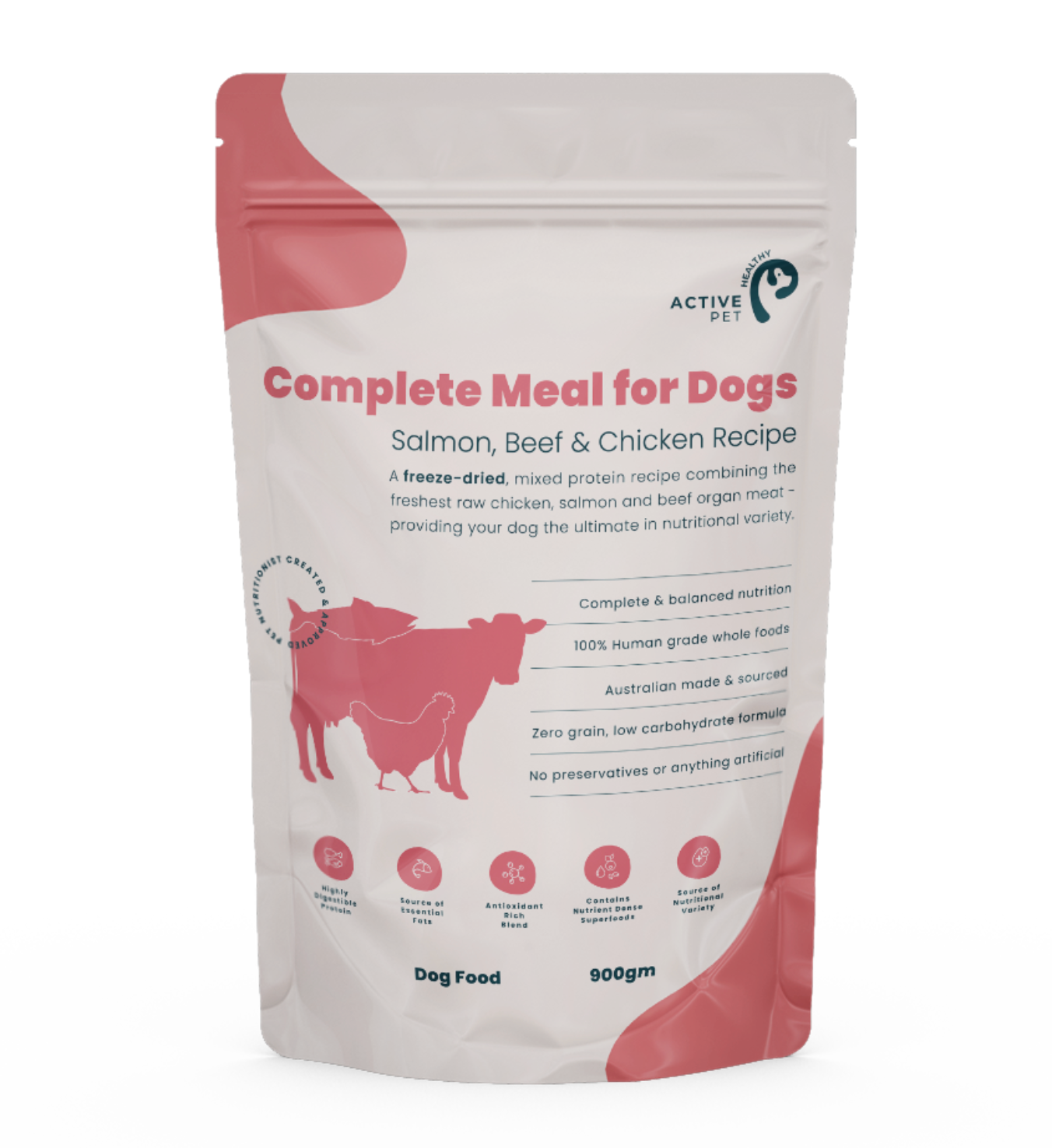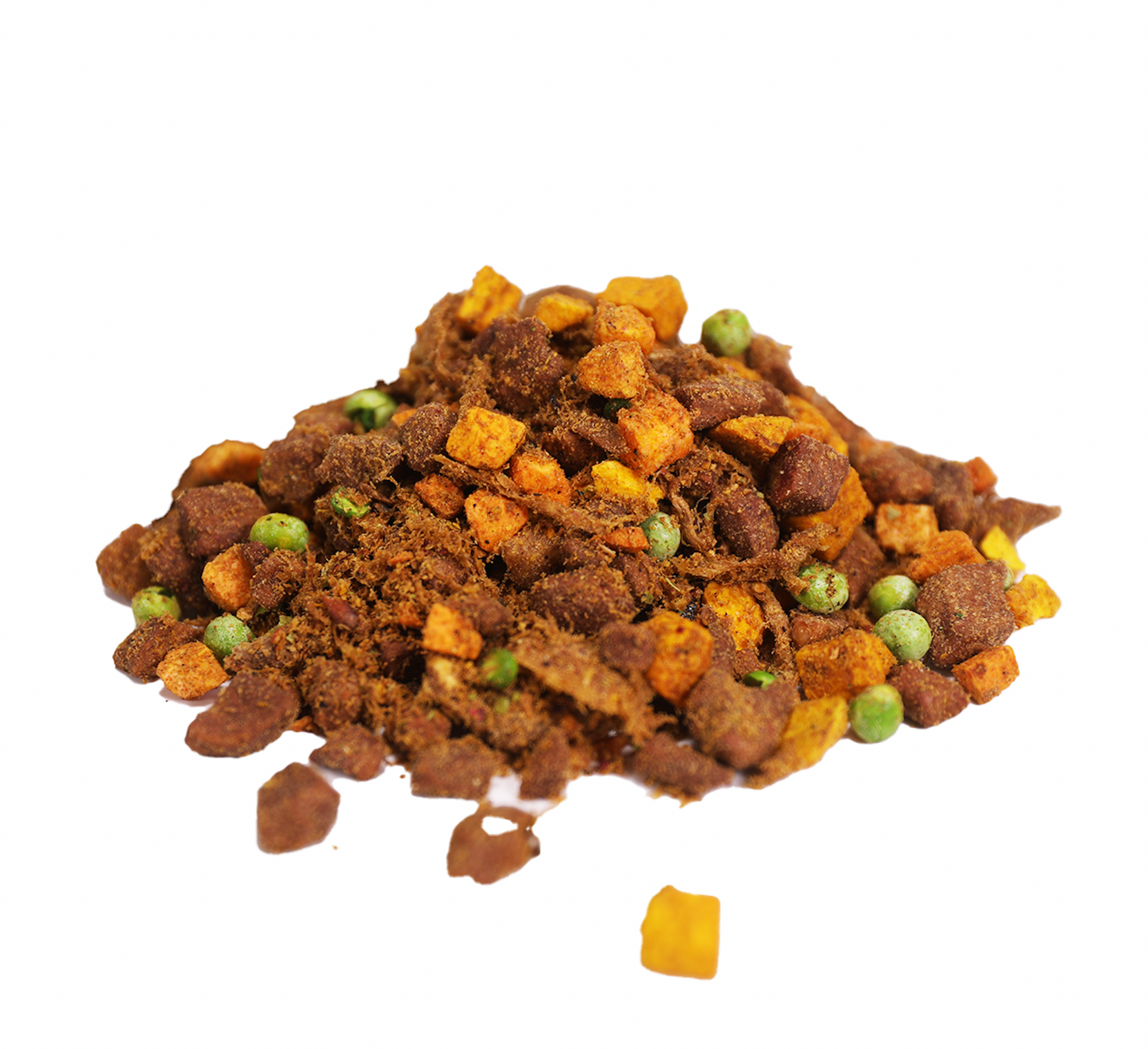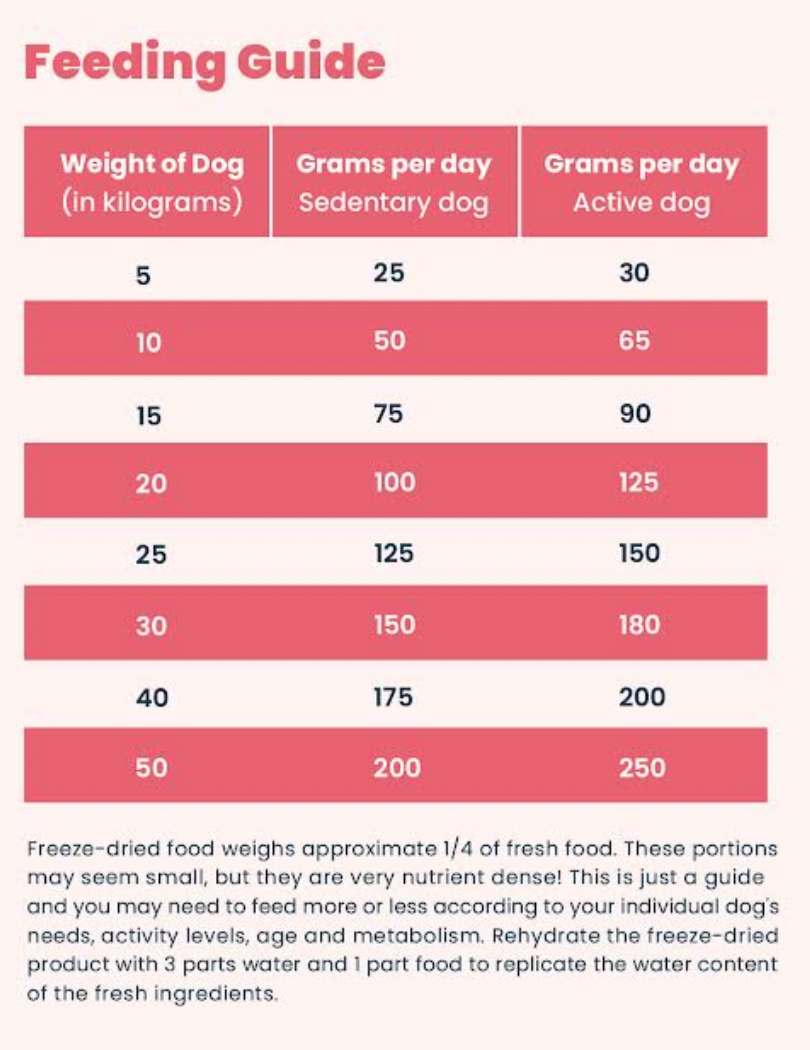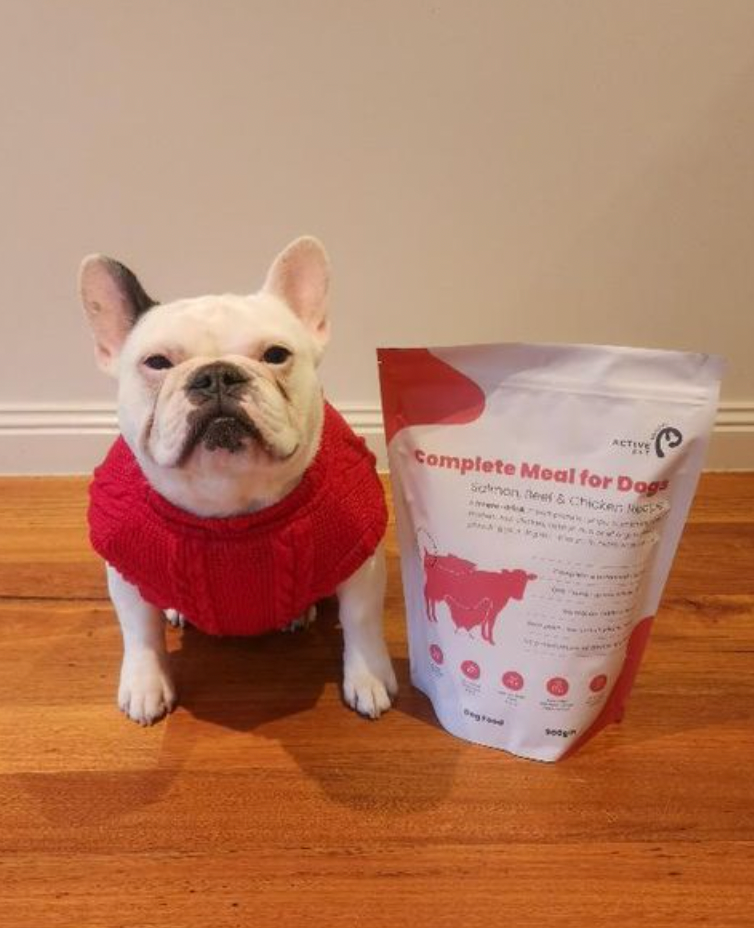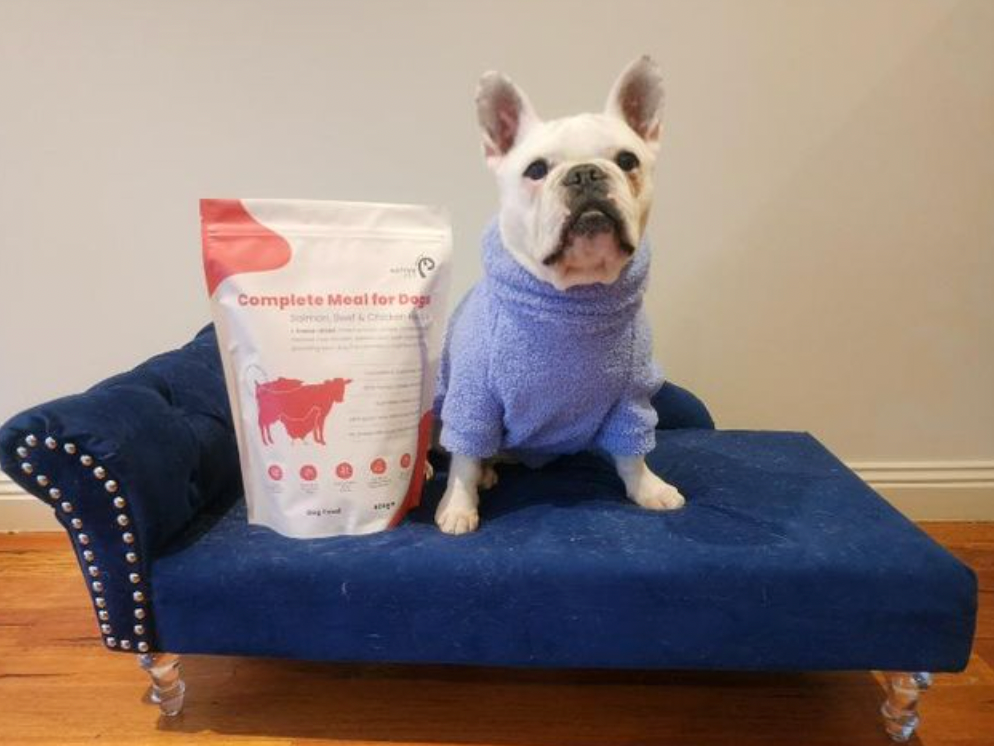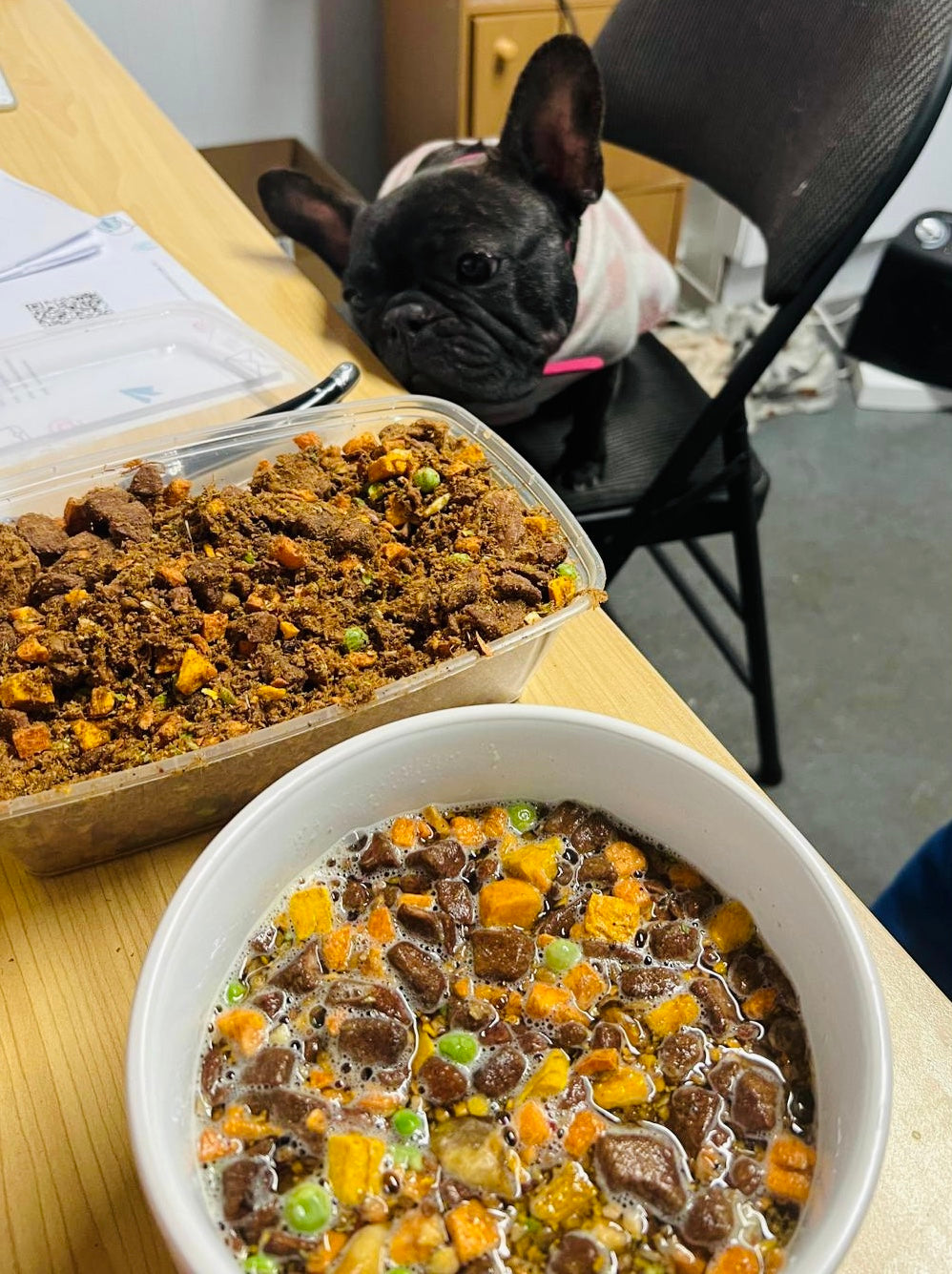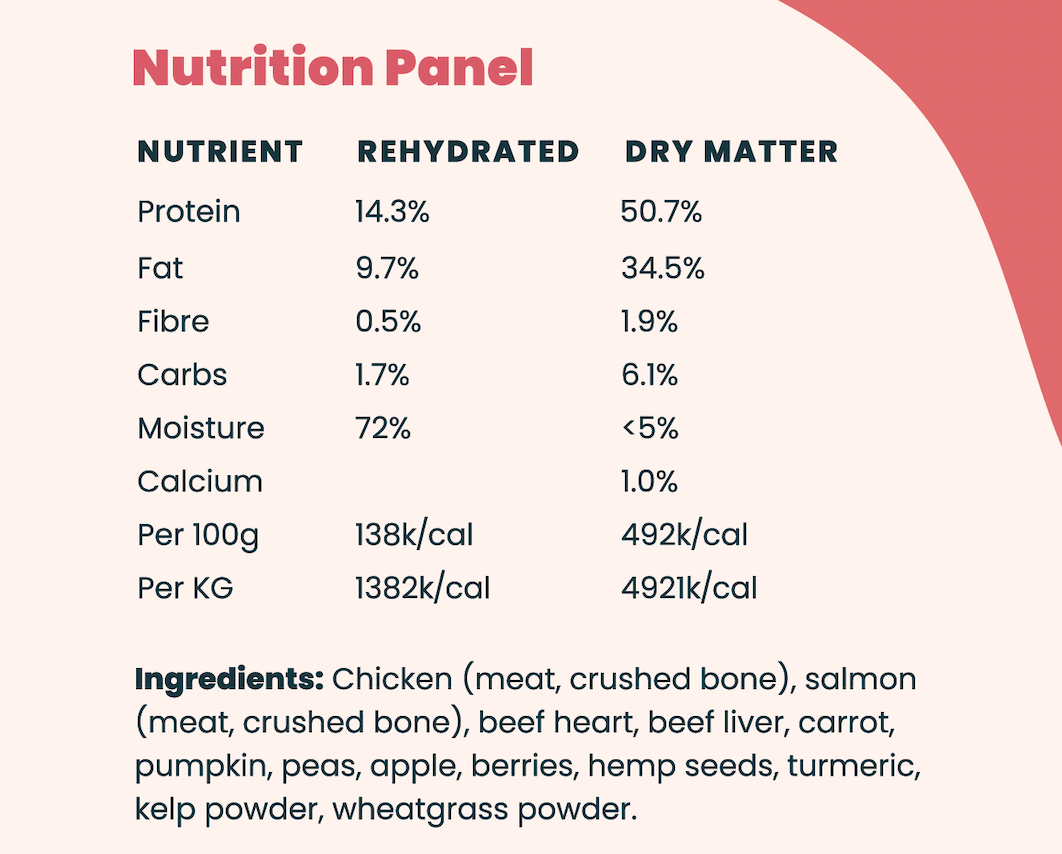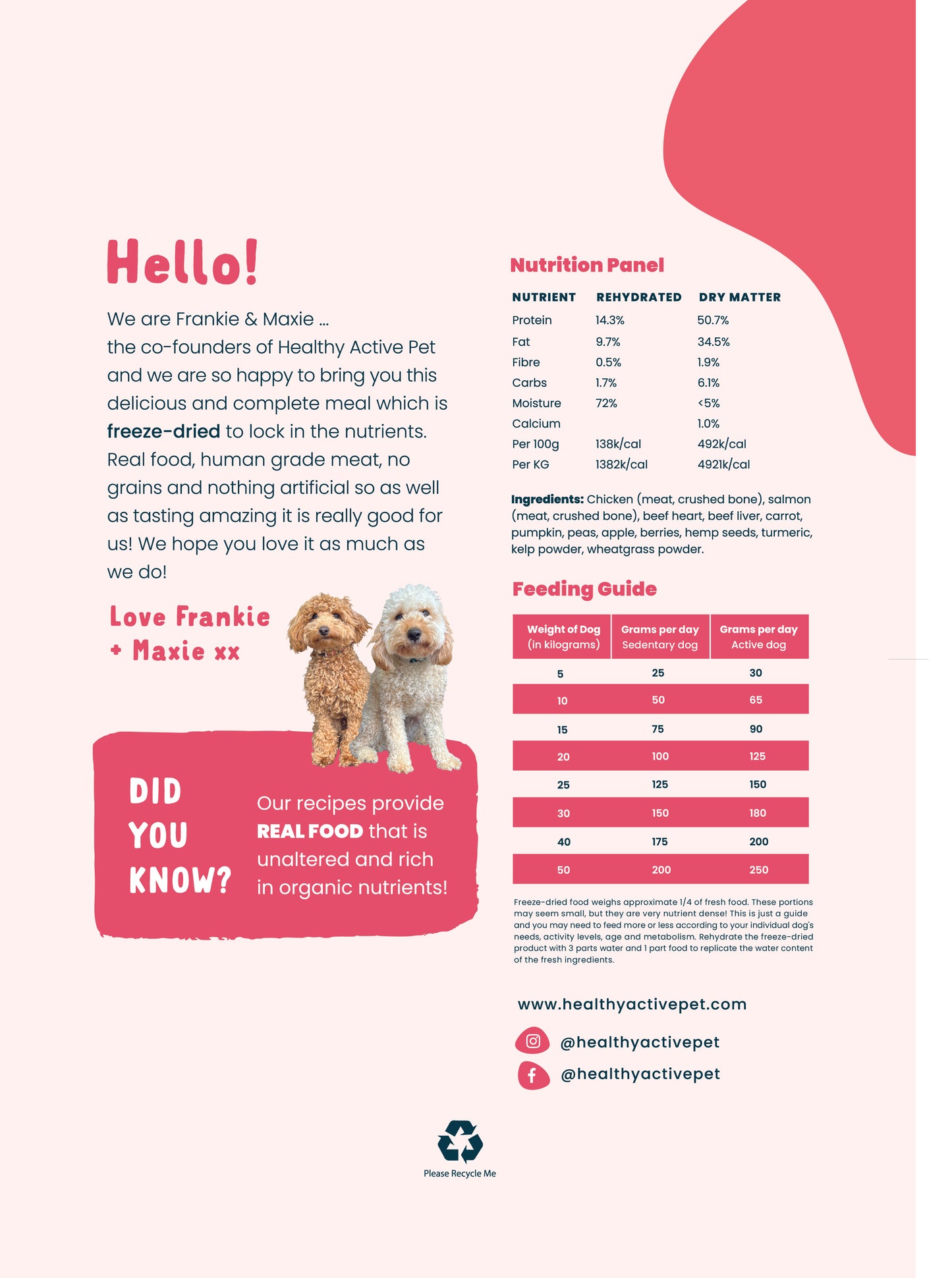 Freeze Dried Raw Dog Food - Beef & Salmon Recipe
Description

Healthy Active Pet's freeze-dried dog food is a mixed protein recipe for the ultimate in nutritional variety.

We have combined a unique blend of the freshest raw chicken, salmon and beef organs, and freeze-dried them to lock in every ounce of nutrition and for your convenience. 

(P.S all our taste testers have 100% LOVED IT!!!)

Please note that this product is freeze dried so is a softer product - and is also perfect for dogs who don't enjoy the texture of raw food.

But if your dog prefers crunchier food then check out our AIR DRIED option here 

It is loaded with highly digestible protein for muscle growth and healthy fats to satisfy your dog's tastebuds and energy needs. 

It is a low carbohydrate recipe to keep your dog lean, but we add some fresh fruits and vegetables, seeds and superfoods for a boost of essential vitamins, minerals, fibre and antioxidants to support their overall wellbeing.  

It rehydrates to 3.6kg of food

This Healthy Active Pet recipe features everyone's favourite minced chicken, including bone to meet your dog's calcium and phosphorus requirements and ensure they have healthy bones, teeth and nails.  

Complete and balanced nutrition
100% Human Grade Organic Whole Foods
100% Australian human grade meat
Australian Made + Sourced
Nothing artificial. No glycerine, sugars or coatings
No grains and low carb
Pet nutritionist created & approved
0% preservatives and 0% grain
Designed to help your dog be healthy and live a long life

Contain digestive enzymes and prebiotic fibre from carefully selected fruits and vegetables, which support your pet's gut microbiome for ultimate digestive health and wellbeing

Ingredients in the freeze dried dog food

The ingredients (and only ingredients with ZERO additives) include:

Chicken (meat, crushed bone), salmon (meat, crushed bone), beef heart, beef liver, carrot, pumpkin, peas, apple, berries, hemp seed, turmeric, kelp powder and wheatgrass.

Salmon is a rich source of omega 3 fatty acids for brain health and to fight inflammation, as well as important vitamin D. The healthy fat content of salmon is highly flavoursome and increases palatability for fussy pups.
Beef organs are an incredibly nutritious and delicious addition to the recipe, supplying good amounts of vitamin A, copper, iron and zinc.

 

We add a powerful blend of hemp seeds, turmeric, wheatgrass and kelp for important vitamin E, essential fatty acids and micronutrients like manganese, iodine and magnesium.

 

Simply rehydrate this shelf stable food with 2/3 parts water to 1 part freeze-dried food for an instant raw meal that's just like homemade. 

Our packaged food is formulated to meet the same standards as our raw recipes you will find in our books, which are the industry wide AAFCO standards for the nutritional requirements of dogs

And in this product, the ingredients are freeze dried to lock in all the goodness in a HACCP licensed facility.

How is this different to our air dried turkey and sardine complete dog food?

This dog food is freeze dried not air dried which means the food is less crunchy and better if your dog likes a less crunchy food and it also rehydrates very easily as the freeze dried process means it is easier to rehydrate.

If you already use our freeze dried turkey treats you will know the difference in crunchiness between this and our air dried food.

The recipe is different - this freeze dried recipe has chicken, salmon and beef as the main proteins in whereas our air dried option has turkey, sardine and duck as the main protein.
Ingredients

Our ingredients are 100% natural, always fresh and ethically sourced. We only provide the highest quality for your pet.
Quality

Tried and tested, and hand-picked by our team of animal experts. Our products are always the highest quality.
Fast Shipping

Options for regular or express shipping to a majority of Australian customers. Our orders always leave within 2 business days.
Set and forget subscriptions

Save money and time with our handy pet food subscriptions, or buy as you need. The choice is yours.
Great for training
Our pup loves this mix. It is also so handy that the food is small enough to use as training treats really easily
Making Raw Feeding Convenient & Simple
5 stars from our fam of three frenchies! Including me, this has made my busy days so much easier, no more messy raw dog food prep when I'm in a hurry, plus the dogs had absolutely no issue transitioning to this food. I can't wait to take this product camping with us as we usually have a fridge full of dog food, there'll be more room for human treats
Wow - my fussy dogs cannot get enough of this
I have tried so many brands but my caboodle is so fussy! Until I found this brand - I 100% recommend it and have just ordered my 2nd bag
Stress free meal times
My sweet,sassy little girl Tilly who is almost 7 years old has been raw fed on pre mades for just over a year. Whilst she eats it one day,she may not eat it the next day.We received our Healthy Active Pet Cook book last week and have prepared and cooked 4 recipes from the book.Tilly has enjoyed every one of them.It is a joy to watch her eating new foods, trying new textures,devouring her meals and licking the bowl clean.It has taken the stress out of meal times and knowing that every meal is healthy and nutritious gives me peace of mind that Tillys dietary requirements are being met for a long and healthy life.Thank you for giving me the confidence to feed home made.
A winner with my dog
My dog really enjoys this one and it is great to find such a high quality product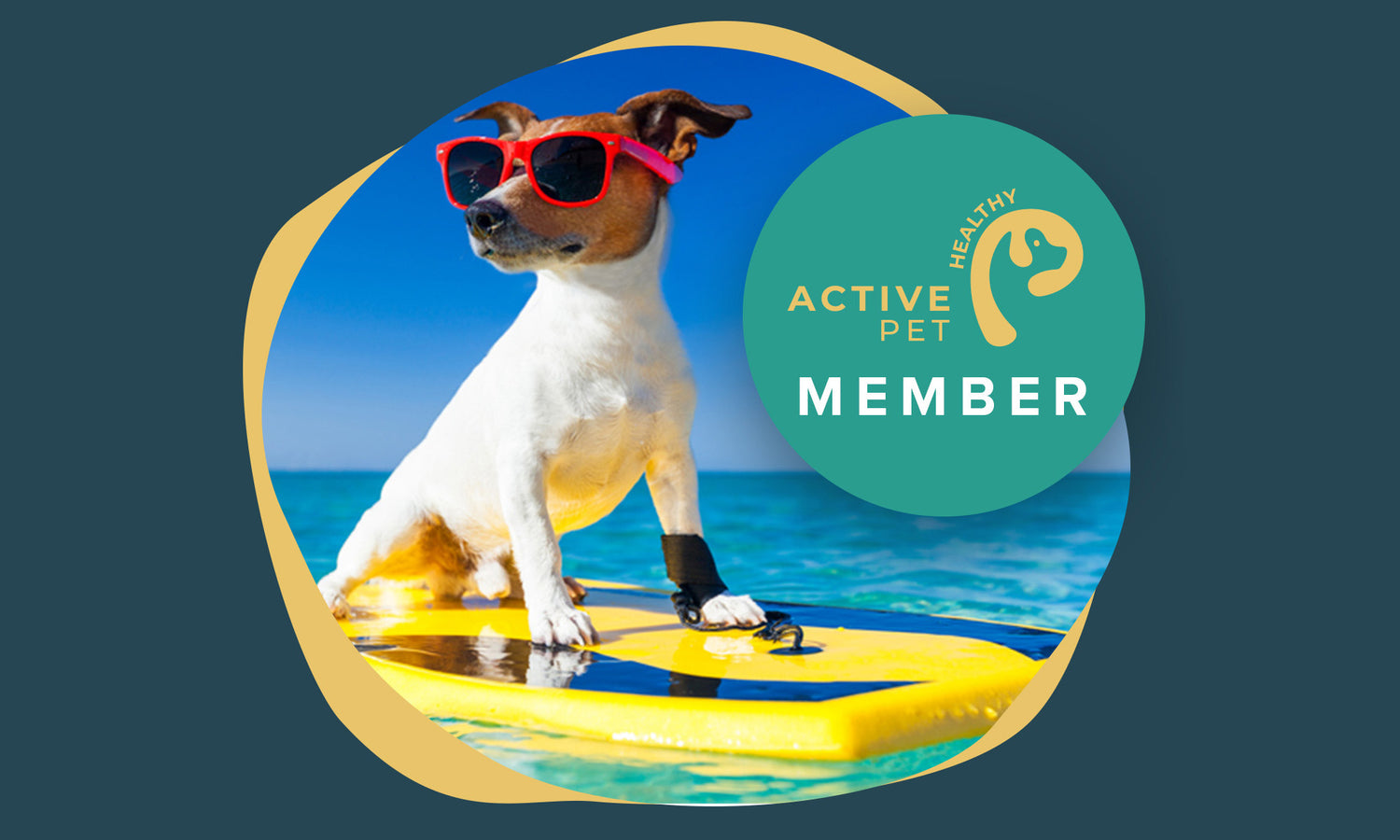 Members Get 5% Off every shop!
That's right! We'll give you 5% OFF everything just for being a member!
Get exclusive access to our catalog of recipes as well as instant access to new recipes added every month.
You'll also get access to ALL health & wellness programs for all pets, VIP access to sales and launches, and access to our private group with animal expert Q & A's.
What are you waiting for?
JOIN TODAY
Highest quality products

Ethically sourced, always fresh raw ingredients. Tried and tested, durable toys and accessories. Our products are always the highest quality.

Fast shipping to all of Australia

Options for regular or express shipping to a majority of Australian customers. Our orders always leave within 2 business days.

Set and forget subscriptions

Save money and time with our handy pet food subscriptions, or buy as you need. The choice is yours.